MIXED CHOIR OBALA KOPER

The Mixed Choir Obala Koper was founded in 1977 and it is resolutely heading for its fifth decade of activity. Over 300 singers have been part of the choir through the years, as Obala constantly regenerates itself maintaining its original vital energy. An example of this is the organization of the international choir festival of Koper, a biennial event that has already become a pivot of Koper's cultural life. In the past, the choir has been led by Mirko Slosar, Walter Lo Nigro, Ambrož Čopi and Maja Cilenšek, and since November 2008, it is successfully conducted by Sebastjan Vrhovnik. In April 2012, Obala won its twelfth gold plate at the national choral competition »Naša pesem« in Maribor. The singers are especially proud of several first prizes and awards at foreign competitions: the latest achievements come from Italy (Rimini, 2008, »C. A. Seghizzi«, 2011), the Netherlands (»Tonen 2000«, 2006), Germany (Miltenberg, 2010), Spain (Torrevieja, 2013), Bosnia and Herzegovina (Prijedor, 2014), and Croatia (Split, 2015). These awards are a symbol of the continuous growth in quality of the choir, which often co-organizes a number of events on local and national level. The singers enjoy working with other choirs, orchestras and organizations; the choir also stimulates the production of new music by commissioning compositions to the
youngest generation of Slovene composers. In 2014 it contributed to the release of Fantazije, the first album of the promising young composer from the Primorska region, Andrej Makor. In 2016 a double album named Sledi … (Traces) was published, which summarizes the choir's performances under the baton of Sebastjan Vrhovnik.
SEBASTJAN VRHOVNIK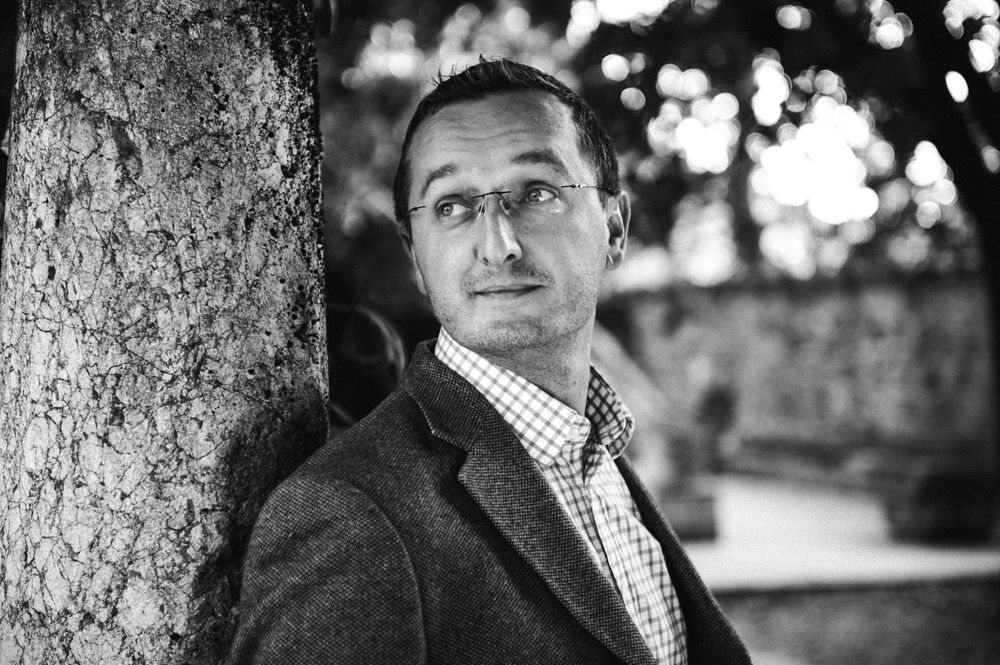 After completing his secondary education at the Ljubljana Conservatory of Music and Ballet (music theory in 1997, singing in 2003), Sebastjan Vrhovnik graduated with honours in music pedagogy under Marko Vatovec at the Ljubljana Academy of Music in 2004. Subsequently he also completed his master's degree in choral conducting in the class of Johannes Prinz at the University of Music and Performing arts in Graz (Austria). Since 2014 he has been an associate professor of choral conducting at the Ljubljana Academy of Music, and he has held several choral workshops in choral conducting in Slovenia and abroad. Currently, he is the conductor of the Mixed Choir Obala Koper, while he has also cooperated, as guest conductor, with the Chamber Choir of RTV Slovenia, the choir of the Maribor Opera House, the female vocal group ČarniCe, the Slovene Childern's Choir and the Slovene Chamber Choir. He was the conductor of the Cantemus Mixed Choir from Kamnik, the Emil Adamič Slovene Teachers' Choir, the Mixed Choir of the Glasbena Matica music society from Ljubljana and the Tone Tomšič Academic Choir of the University of Ljubljana, with which he has recorded several CDs and won a number of first places and special prizes at various competitions.