FEMALE CHOIR OF THE ACADEMY OF MUSIC OF
THE UNIVERSITY OF LJUBLJANA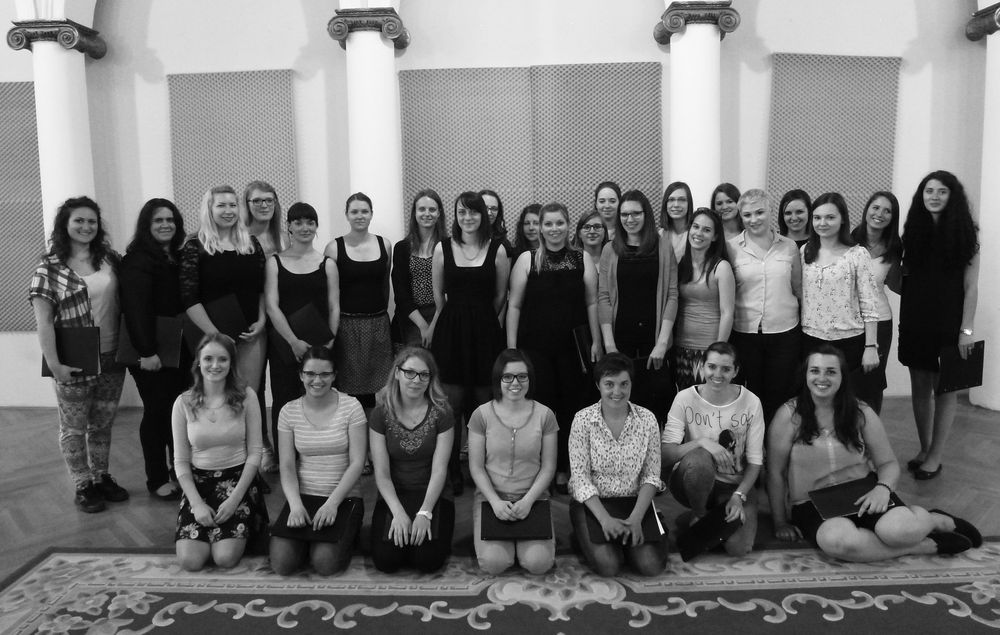 The Female choir of the Academy of Music of the University of Ljubljana is the fruit of the Bologna reform of the study programmes and it was founded in the academic year 2009/2010. The first performance of the choir was held at the Symposium of the Academy of Music in honour of the birth anniversary of the Slovene composer Radovan Gobec. The members of the choir are students of the departments of music pedagogy, sacred music and conducting. The choir has performed as the demonstrative choir at seminars for conductors, has sung at concerts in subscription concerts and at symposiums of the Academy of Music and at different concerts both in Slovenia and abroad. The choir also serves as a means for pratical work of the students of the above mentioned programmes and simultaneously helps them learn and perform high quality choir music both from the national and international choir literature.
ALENKA PODPEČAN

Alenka Podpečan was born in Velenje. She has been a choir conductor since she was 17. She studied solo singing and piano at the Velenje secondary music school. In 2008 she enrolled at the Academy of Music in Ljubljana and in 2014 she graduated summa cum laude in music pedagogy (choral conducting). In 2012, she enrolled to study choral conducting with prof. Marko Vatovec. She continued her studies at the Masters level and completed them with a concert dedicated to the 500th anniversary of the Protestantism. She has been to the US as a guest of conductor Eduardo Garcia Novelli and she has also participated to various masterclasses with conductors Ragnar Rasmussen, Georg Grün, Adrian van der Spoel, Rob Vermeulen and others. She led the medical students' choir COR from Ljubljana, 2011—2013 and the Krog Chamber Choir from Ljubljana, 2014—2015. Currently, she is the assistant conductor of the Chamber Choir Ave, she is the conductor of the Mixed Choir Pomlad from Novo mesto and the Mixed Choir Cantemus from Kamnik. She has received several awards in regional and international choral competitions; in November 2016 she won second place at the first Slovene competition of choral conductors in Ljubljana and received a special award for leading the best rehearsal in the semi-finals.